En mi primer viaje a New York (en el lejano 1992) comí montones de estas, tan buenas, blanditas... Y obviamente me llevé la receta para Barcelona. ¡¡¡Me encantan!!!
_______ _______
On my first trip
to New
York (
in the far
1992)
I ate
lots of
these,
so good
, so chewy
...
And obviously
I took the
recipe to
Barcelona.
I love them!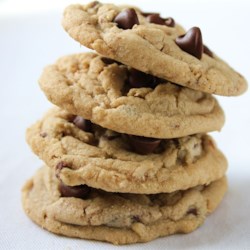 Ingredientes para dos docenas
115 gr. mantequilla
100 gr. margarina
165 gr. azucar moreno
100 gr. azucar blanco
1 huevo
5 ml. de extracto de vainilla
5 gr. de levadura
1 pizca de sal
250 gr. de chips de chocolate amargo
250 gr. de harina
Realización
Precalentar el horno a 175°C
Mezclar la harina, la levadura y la sal en un tazón. En otro tazón, mezclar la mantequilla y la margarina a temperatura ambiente con el azucar blanco el azucar moreno y la vainilla.
Batir hasta que quede cremoso. Añadir y batir con el huevo. Poco a poco agregar la mezcla de harina, sal y levadura y mezclar bien. Añadir el chocolate y mezclar.
Colocar a cucharadas separadas en una bandeja cubierta con papel de horno. Hornear de 8-10 min.
Nota: ¡Sacar del horno antes de que empiecen a ponerse oscuras!
_______ _______
Ingredients for two dozens
1/2 cup butter
1/2 cup shortening
3/4 cup packed brown sugar
1/2 cup white sugar
1 egg
1 teaspoon vanilla extract
1 teaspoon baking soda
1/4 teaspoon salt
1 1/2 cups semisweet chocolate chips
2 cups all-purpose flour
Method
Preheat oven to 350 degrees F (175 degrees C).
Combine flour, baking soda and salt. In another bowl, combine soften butter with shortening, sugar and brown sugar and vanilla. Beat until creamy. Beat in egg. Gradually add flour mixture and mix well. Stir in chocolate chips.
Bake on ungreased cookie sheet for 8-10 min.
Note: I take them out of the oven before they start to turn dark!